Lastest News - R. Bruce Dye
Here you can find all the latest news about R. Bruce Dye and his companies such as Brigadoon Financial, Brigadoon Fitness and more.
Mayor's race costs a record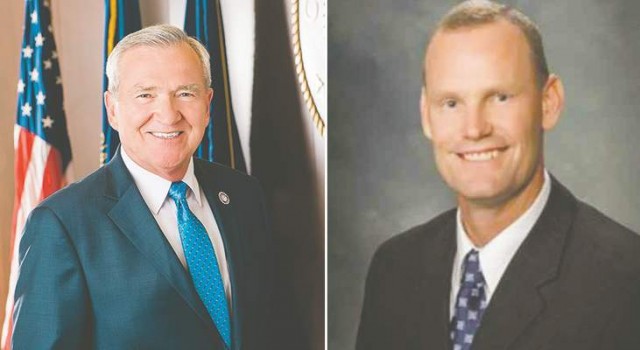 $1.8 million spent; social media rise a factor
With about $1.4 million raised since the May primary and $1.8 million spent throughout 2019, Fort Wayne Mayor Tom Henry and Republican challenger Tim Smith have made Tuesday's election the most expensive in city history.
"It's been trending this way for a while," said Andy Downs, director of the Mike Downs Center for Indiana Politics at Purdue University Fort Wayne. "Given the cost of TV time and the need to be more aggressive with social media and newer forms of communication and having an elaborate ground game, it's more expensive to run a race."
Spending over the entirety of 2019 totaled $1.8 million. Smith spent about $1.16 million, while Henry spent more than $680,000 this year. That's not just due to inflation, Downs said. It's also because campaigns have realized they need to be more professional to compete. That means local campaigns have become more adept at delivering a message and targeting an audience.
But Downs said it's not without its problems.
"One is that it's hard to be a real candidate if you don't have money or access to money," he said. "The other is that because we can't rely on the news to be the filter it has been before, in terms of fact-checking, that job falls to us as consumers."
As The Journal Gazette previously reported, both candidates spent the bulk of their accumulated funds on advertising.
But, somewhat predictably, where the candidates got their money varies.
Henry's single largest contribution came from the Indiana Democratic Party at $63,150 in mail and postage. Major Fort Wayne companies and firms also supported the Henry campaign, including Kelley Automotive Group ($15,000), Trier Law Office ($11,000), Carson LLP ($20,000); Faegre Baker Daniels ($15,000); Bose McKinney & Evans ($13,000); Beers Mallers Backs & Salin ($7,500); Ottenweller Contracting ($5,000); and Rothberg Logan Warsco ($7,000).
Many of the firms that donated to Henry's campaign have done business with the city at some point over the past nine years.
Barrett & Stokely, the firm developing the Lofts at Headwaters Park and a new mixed-use building across from Promenade Park, donated $2,000 to the mayor's reelection effort.
Witwer Construction Inc., the firm that sued successfully to strike down the city's pay-to-play campaign finance ordinance in June, donated $2,700 to the mayor's campaign. There are no records of Witwer Construction ever receiving any kind of payment from the city, the SmartGov check register shows.
It's not unusual for organizations that do business with the city to give money to the incumbent, Downs said, noting it often doesn't matter what the political affiliations are. A business that gave money to a Democrat in one cycle is just as likely to donate to a Republican, should the office turn over, he said.
The Henry campaign's donors also included the heads of several area companies, some of whom donated $5,000 or more. They included Sweetwater Sound founder Chuck Surack ($10,000), who also appeared in a recent campaign ad in support of Henry; Ruoff Home Mortgage CEO Mark Music ($5,000); Ash Brokerage CEO Tim Ash ($5,000); and Indianapolis resident Herbert Simon ($5,000), owner of the Indiana Pacers basketball team, which owns the Fort Wayne Mad Ants.
Nineteen political action committees donated to Henry's campaign as well, with contributions ranging from $500 from the Northeastern Indiana Building Trades Council PAC to $9,000 from the Ironworkers Local 147 PAC.
Henry also reported dozens of smaller contributions from individuals, spread across 48 pages included in pre-election documents filed with the Allen County Election Board in October.
Smith raised large amounts of money – more than $900,000 – after the primary election from a variety of donors. Notable contributors to the Smith campaign included $100,000 from Brigadoon Financial, Brigadoon Fitness, Scadata CEO R. Bruce Dye; $5,000 from MedPro CEO Timothy Kenesey; $10,000 from Fort Wayne Metals CEO Scott Glaze; and $15,000 from local attorney Kevin Fitzharris. Smith had numerous donations from other individuals ranging from $25 to more than $5,000.
Smith also infused his campaign with more than $75,000 of his own money.
According to pre-election reports, Smith's campaign had fewer large donations by area companies, but did receive $100,000 from Daryl Doden-owned Ambassador Enterprises, $35,000 from local law firm Barrett McNagny and $5,000 from Indianapolis law firm Barnes & Thornburg.
Smith also received $102,090 from the Indiana Republican Party.
Smith, like Henry, also enjoyed the support of a variety of political action committees, seven in total. The largest PAC donation Smith received, $121,500, came from the Northeast Indiana PAC for Better Government. Other political action committees that supported Smith included the Commonwealth Engineers PAC ($13,750); the Home Builders Association of Fort Wayne PAC ($1,000); Woolpert Inc. Political Action Committee ($1,500); the Allen County Right to Life Committee PAC ($400); and the Fort Wayne Professional Fire Fighters Local 124 PAC ($17,500).
Reports filed by the Smith campaign show some overlap with Henry's fundraising efforts. Rothberg Logan Warsco is one example, having donated $5,000 to Smith's campaign. That activity, where a business gives to both the incumbent and the challenger, is also not uncommon, Downs said.
As Fort Wayne grows, campaign expenses are going to grow simply by the logistics necessary to reach the largest number of voters, Downs said. Contested elections, increased voter turnout, the professionalization of campaigning and the number of qualified candidates on the ballot will also drive costs up.
"It's good that we have better campaigns, a better quality of work. That's a benefit to voters, I would argue," he said. "The downside is the campaigns are better at messaging and spin and those sorts of things. We're going to have to get better at getting through the noise to the actual data and what it means."
Original story posted here: DAVE GONG | The Journal Gazette - Sunday, November 03, 2019 1:00 am
https://www.journalgazette.net/news/local/20191103/mayors-race-costs-a-record